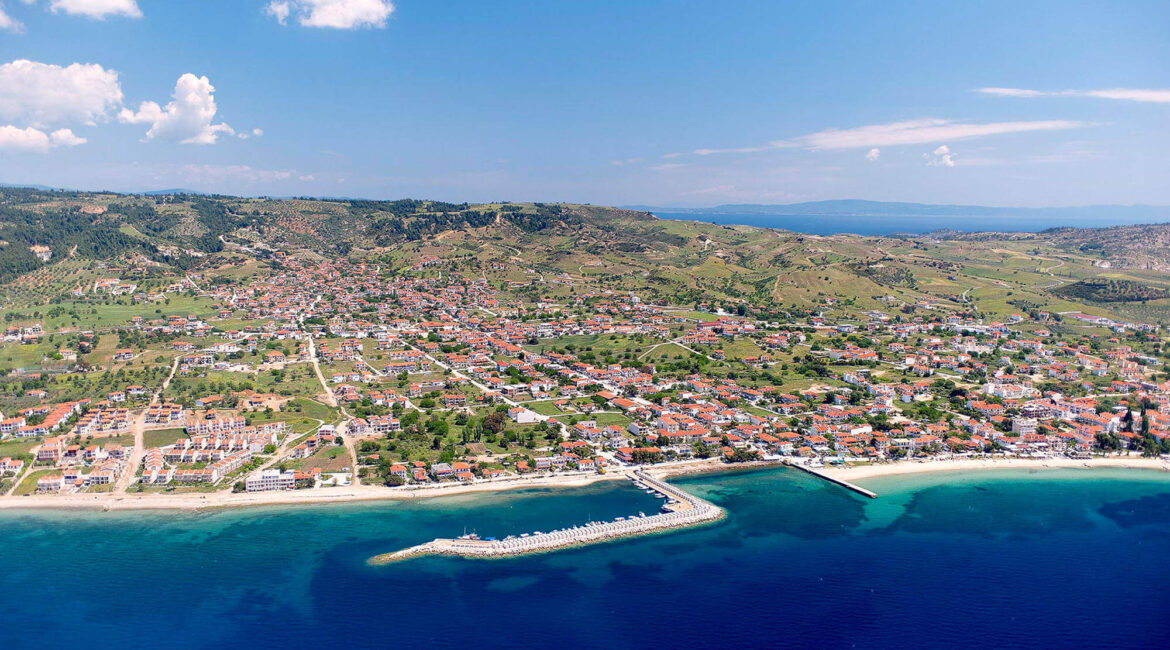 NIKITI SITHONIA, HALKIDIKI
Nikiti in Sithonia with population of some 3,000 permanent residents, is one of the area's most popular summer destination, ideal for all type of travelers, with a bustling seafront, numerous restaurants, cafes and beach bars and a lovely traditional old village nestled up in the hills. All these make it an attractive destination both for Greek and foreign tourists.
Distance from the International Airport of Thessaloniki – 88km
BEST BEACHES NEARBY
The peninsula of Sithonia is home to some of the most astonishing beaches, not only in Greece, in the Mediterranean. Along the coastline of around 130km, there are over 30 amazing sandy beaches. Some of the most beautiful and popular ones are closely located to ARIA GARDEN SUITES.
WEST COAST OF SITHONIA
Nikiti Beach (Distance 370m)
Just in 5 minutes walking distance, a well-organized long beach of Nikiti is the favorite spot for thousands of visitors during the summer season.
Along the beach there are numerous restaurants, cafes and beach bars, most of them provide sunbeds and umbrellas on the beach.
Agios Ioannis Beach (Distance 4km)
A well-organized beautiful sandy beach with crystal and green emerald waters.
Koviou Beach (Distance 6km)
A less-known among the area's beaches, it lies in a small bay, between Agios Ioannis and Kalogria. Koviou is surrounded by small hills and pine trees, covered with fine, white sand and the sea has crystal-clear, warm, blue waters. It is a relaxing beach and not too much crowded. 
Kalogria Beach (Distance 7km)
Easily accessible and well-organized beach. It consists of soft, golden sand and turquoise waters with green hills behind the beach.
Elia Beach (Distance 11km)
Elia coast features a long sandy beach with very clear waters and is located in the northwestern part of the Sithonia peninsula.
Like Nikiti beach, it has also been awarded a Blue Flag.
Paradisos Beach (Distance 18km)
EAST COAST OF SITHONIA
Trani Ammouda Beach (Distance 8km)
An extremely large, exotic and quiet sandy beach, preferred by families with small children due to its shallow and warm waters.
Lagonisi Beach (Distance 8km)
Definitely, one of the most beautiful and popular beaches in Sithonia. Like in most beaches of the area, the main part is sandy and the sea is clear, with a light blue color.
Karydi Beach (Distance 15km)
A family-friendly beach, wide enough with white sand and shallow turquoise waters. Located on Vourvourou Bay, it has a beautiful landscape with all the trees providing natural shade.
Kavourotripes – Orange Beach (Distance 35km)
Undoubtedly, one of the best beaches in Greece. A real paradise on Earth, a golden sandy beach with clear, emerald and shallow waters with a wonderful view to Mount Athos surrounded by pine trees and white rocks.